Taormina is an enchanting coastal town in Sicily, one of the most famous tourist destinations in the Mediterranean Sea (Mar Mediterraneo). Settled on a natural terrace on the Monte Tauro, Taormina overlooks the verdant promontory that stretches from the hinterland to the crystalline waters of the Ionian Sea (Mar Ionio).
Taormina is a perfect mix of sea, nature and history: its medieval village, the ancient Greek soul, the scents and colors of the Mediterranean vegetation, the extraordinary beaches of Lido di Taormina, Isola Bella and Mazzarò (the last can be reached via an aerial tramway).
Founded in the 4th century BC., the ancient Tauromenion enjoied great prosperity first under Greeks and the Romans, and later under the Normans. There are a plenty of historical proofs about the Taormina golden ages: the Greek Theater, the Roman "Naumachiee", Palazzo Corvaja, the Church of San Pancrazio, the Palace of the Dukes of Santo Stefano, the Church of Santa Caterina d'Alessandria and the "Badia Vecchia" (ancient abbey) just to name a few.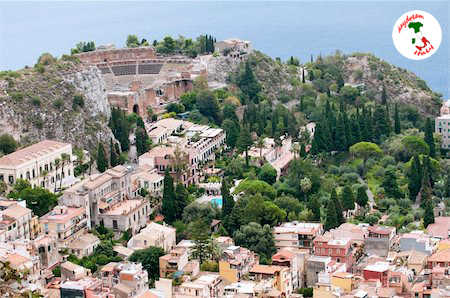 The "Pearl of the Mediterranean" (Perla del Mediterraneo), as the Sicilians call Taormina, is a dream place in which to admire the immense natural, historical and artistic beauties of the landscape. Arriving in Taormina you will be enchanted by the magical atmosphere that has made it a tourist resort for nobles since ancient ages. For over a century then Taormina has become one of the top destinations for tourists from all over the world. So many celebrities have enjoyed its perfumes, colors and flavors all over the centuries. Among the many we mention Goethe who described Taormina as "a little corner of paradise on the earth".