Polignano a Mare is a charming small town in Apulia located just over 30 km south of Bari. An extraordinary gem built on a limestone cliff overlooking the crystal clear waters of the Adriatic Sea from a height of 20 meters. A place full of charm that deserves to be visited at least once in life.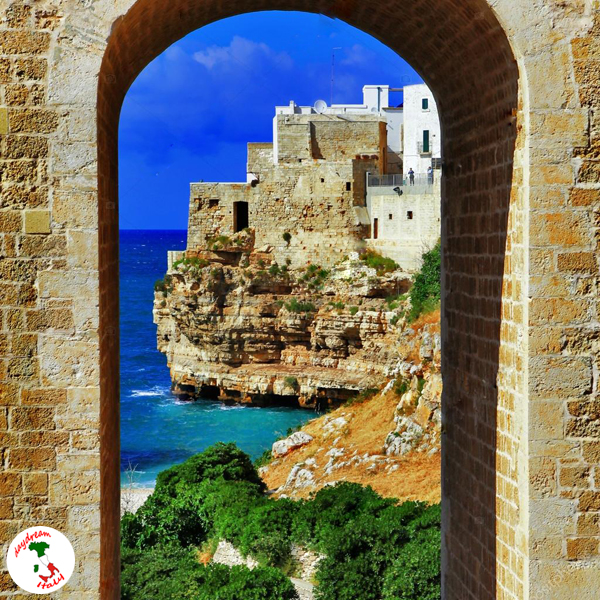 The origins of Polignano a Mare are very old. The historians attribute its foundation to the tyrant of Syracuse, Dionysius, who built on this rocky spur a garrison for the control of the naval routes over the Adriatic Sea: the ancient city of Neapolis was erected near the oldest settlements dating back to the Neolithic. Afterwards, with the Roman domination, Polignano became an important center on the road between Rome and Brindisi. The Emperor Trajan direct here the Via Traiana (108 – 110 d.c.), of which a beautiful Roman bridge remains to Lama Monachile.
A wonderful place recalls a fascinating legend: it is said that the fleet of Gaius Mario went to the rescue of Catulus when it was overwhelmed by the storm. Gaius Mario then decided to free his hawk and take shelter where it would have posed. The hawk lay on the cliffs of Polignano and here a new city was founded. This hawk remained forever immortal in the Polignano's emblem.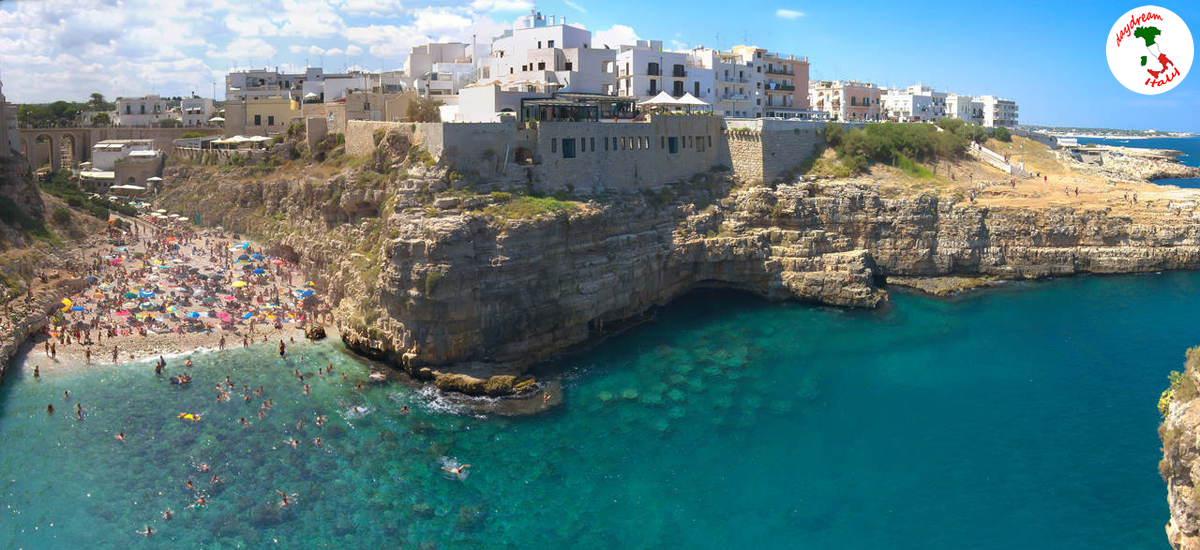 This beautiful village in Apulia is a concentration of poetry: the cliff overlooking the sea, the numerous sea caves scattered along the coast, white houses with flowered balconies and ancient churches. Through the Porta Grande, or Arco Marchesale, you can access the historic center with its winding streets. Here you can savor the mix of Arab, Byzantine, Norman and Spanish cultures that have characterized these places over the centuries. Your wandering around the village will be accompanied by the numerous poems painted by Guido il Flaneur on the buildings' doors and walls, adding magic and further poetry to these places. Through the Polignano's alleys you will inevitably arrive at one of the three panoramic terraces overlooking the sea from which to admire the romanticism of the Adriatic Sea and the surrounding coast.
One of the most famous places in Polignano a Mare is Lama Monachile. Lama Monachile is an enchanting cove surmounted by two overhanging rock walls. Overlooked by the ancient bridge, it is one of the most famous and photographed corners of Polignano a Mare. It owes its name to the presence in the past of a numerous colony of monk seals.
Finally we remember that Polignano a Mare gave birth to the great Domenico Modugno, famous throughout the world for the great international hit "Volare" (Nel blu dipinto di blu) of 1958. On the Polignano's seafront (named after him) a bronze statue was erected as immortal memory of this great artist.